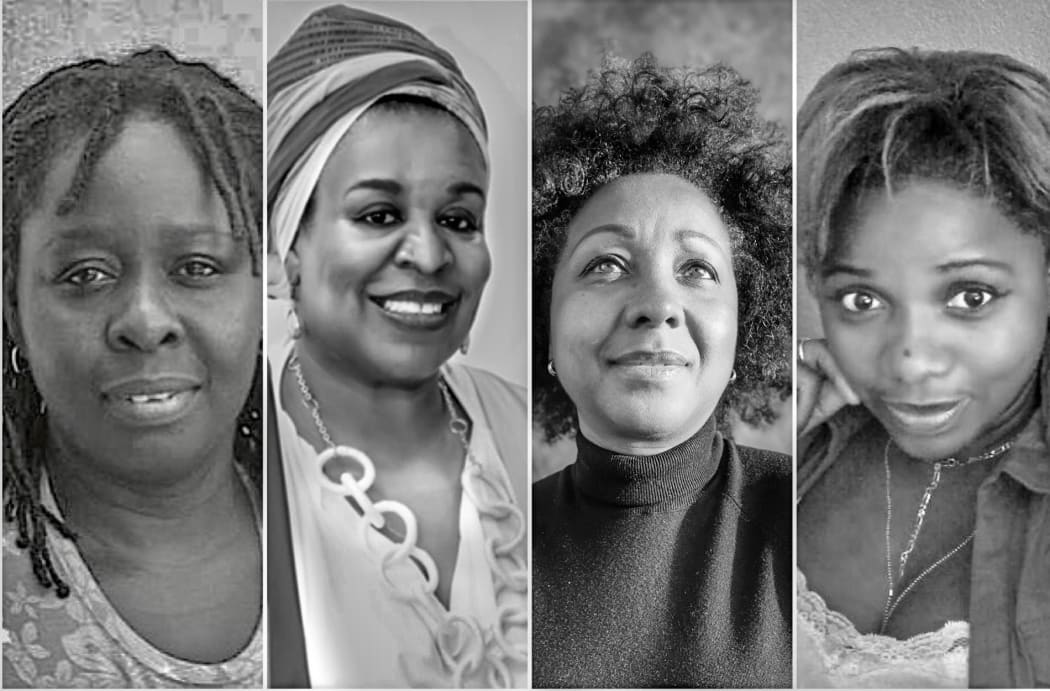 Mary Evans, Angela Franklin, Claudie Dimbeng and Aza Mansongi are four women with four different origins, living in four different countries who have a common passion: art.
As professional visual artists, they face more challenges than their male colleagues, but being a black woman makes it even tougher than being just an artist of colour.
The art world has long been dominated by men, especially white men, with female and minority artists, classified in the second class, which has resulted in these artists being underrepresented in the collection of western museum's artworks. Yet, there is not an insufficiency of talented Black female artists but, nevertheless, the art world is shockingly missing their perspective.
Born in Ivory Coast from an Ivorian father and a Franco-Ivorian mother, Claudie Dimbeng spent her early childhood in Germany and her adolescence in Austria from 1982 to 1986. A cosmopolitan globetrotter and married to a Cameroonian, her children were born in Paris where she has lived for almost 35 years. "It is this intermingling in which I was immersed that led me to highlight intercultural dialogue through Mixed Art Relief and to address global subjects or issues about women in society", she said.
As a mother and wife, Dimbeng has several responsibilities and it has become more and more of a daily challenge. The tugging is constant and the schedules busy, but she somehow manages to keep all the balls in the air whilst she strives to find a balance between all her duties. Professionally speaking, Dimbeng hasn't experienced direct racial or gender difficulties but that hasn't stopped a few things affecting her.
"Normally, I don't refer directly to my skin colour or where I came from," she told us. However, she notes that she has never been exhibited in galleries run by Caucasians. The media that have talked about her work are mostly related to Africa: tv5, RFI, Amina, 100% Culture, etc. All the major exhibitions in which she participated were initiated by Africans: Festival Africa in all Senses at the Quai Branly museum, Delegation of the Ivory Coast to UNESCO, The voice of Africa in Norway, etc. "And that doesn't just apply to me," she adds. "Institutions buy very little art from African artists. And there is a lack of inclusion of black artists in mainstream art journals". She notes that there are art magazines for Westerners and others for contemporary African art.
Contrary to Claudie Dimbeng, Mary Evans, Black British artist and leader of a fine art course at Chelsea College of Arts (London) has been a victim of racial discrimination many times, which has made her focus more about race in her art. She recounted her anecdotes during an interview in The Guardian. When she was a student at the Rijksakademie in Amsterdam, she was the only black student in her year and the only student who kept getting asked to get her passport stamped at the aliens' police station. Later, she lost her passport and had to go to the British consulate to apply for a new one. But they kept asking her: "How do we know you're British?" – and she didn't know how to prove it. At that point, something changed. She couldn't go back to making paintings that weren't about things that mattered.
Later, when she became professional, she was normally the only black person in a room. She was racially discriminated against at shows that she was part of. She was once at the opening of a group show and had an unlimited drinks token, because she was one of the artists. "When I went to get a drink, the barman took my token. When I asked for it back, he stated: "You're not meant to have one of these, they are for VIPs." I finally said: "I'm an artist." He responded: "Yeah, I'm an artist, too, a Soundcloud artist." I told him I was an artist in this show. And he was like: "Yeah, of course you are, and I'm David Beckham."
However, other black people in the art sector believe that there is a certain evolution. According to Zak Ové, the curator of a landmark exhibition that traced 50 years of black creativity in the UK, last year said that, UK cultural institutions are more open than ever to British black culture and the artists behind it. In an interview with The Guardian, he said that the horizons have widened. Previously, Africa was treated as something obsolete; African art was something old that you examined in the British Museum. Black British artists have been ignored, for the most part. But now more and more institutions are opening up to contemporary artists and showing contemporary life to people in the global diaspora.
Across the Atlantic, it's a different story. Black artists want representation beyond slavery at the Museum and the National Gallery, says George Morton, an instructor who opened Atelier South in Atlanta. Morton is part of a movement of black artists and curators from New York to Atlanta that host exhibitions, teach classes, and create work that shines a light on black culture. The artists claim that African Americans are absent from the historic art collections of some of the largest museums, galleries and auctions in the world. They insist that most of the paintings and portraits hanging on the walls of these institutions were created by white men and feature prominent white figures in American or European history.
Jasmine Wahi, the Holly Block Social Justice Curator at the Bronx Museum in New York, doesn't think all institutions are being proactive, despite there having been some blockbuster shows and Basquiat retrospectives and auctions that have broken records. The roll call of the past few years in the US and UK includes Kehinde Wiley and Amy Sherald's official portraits of the Obama's, Martin Puryear representing the US at the 2019 Venice Biennale, the Soul of a Nation show at Tate Modern, and Sonia Boyce getting set to represent the UK in the 2022 Venice Biennale – the first black female artist to do so.
The discrimination experienced by black women artists is not only racial but also gender discrimination. The struggle faced by Angela Franklin is an illustration. Angela is a reflection of modern women who want to live out their passions while combining family life. She is multimedia artist of African-American origin who lives and works in Dakar, Senegal. Angela left the United States to settle with her husband in Africa. She says that the world does not equally accept a woman who has a passion and a skill that she cultivates whilst raising a family. She testifies that she has seen women fight twice as hard for recognition which is much easier for men to achieve.
When she arrived for the first time in Senegal, she faced many challenges. Initially, her area of ​​interest was linked to enamelled metal arts but when she arrived in Dakar it was difficult to continue working with her preferred materials due to several logistical factors: electricity costs, shipping cost, ovens and other materials were also expensive. She, therefore made the decision to examine which materials were more easily accessible, namely, fabric, paint and found objects. It was from then that her work began to evolve into other mediums. She states that this episode of her life was difficult as a female artist as she has to stay on top of her family responsibilities as a married woman and mother as she was also managing another business.
Likewise, Aza Masongi another female fine artist from Democratic Republic of Congo had some bad experiences in her career based on her gender from her own colleagues, cultural promoters and even her clients. Coming from a country where women have a secondary place and where sexual violence is legion, about 1152 women are raped per day in the East of the country, or about 48 rapes per hour according to a report on Belgian television RBTF published in 2018. Discriminated and stigmatised by their community then, they must live alone with this image of the raped woman. Beyond that, according to Congolese tradition, the woman must stay at home to take care of the children and maintain the house. A family with little means will favour the education of their boys rather than their daughters. Women, therefore, have fewer prospects for the future than men.
She still remembers in the beginning how she struggled to be accepted in the professional environment. "After my university studies, I joined a painting studio, where I was the only woman at the time, for my internship. My colleagues did not see the artist that I was but rather the woman. Each time I needed directions, i got advances and flirtations instead. It was really disheartening for the young artist that I was", she says.
However, she made the courageous decision that rather than allowing it to discourage her, it would make her work harder. Even at a certain point, her style was very negatively criticised by her male colleagues who thought her style was a way of avoiding hard work. Later, her persistence paid off. She was exhibited in several exhibitions in African countries, in Europe and even in Asia. "Even today, it happens sometimes that professionals in the sector approach me with business proposals they also expect other favours in return", she adds.
However, in sectors linked to creation where it is expected to find many women, given their presupposed talents and assumed natural dispositions, the greatest chefs, painters, choreographers or stylists remain, in the collective imagination, largely rather masculine figures.
How to explain the lack of women artists on the front of the stage? This is particularly the case in regards to fine art, numerous studies have highlighted their difficulty in maintaining themselves in a particularly selective market. Their work, long considered a separate genre, even minor, is still today under-represented in exhibition spaces or in reference books. As for their career progress, they remain much less advantageous than that of men, being less recognised on a professional level and not very valued in the circuits favouring an opening towards the market of works.
Recently, a study by sociologist Taylor Witten Brown for The Art Market 2019 showed that female artists work was less valued than the work of their male colleagues. According to this report, statistics from the past decades confirm that the art world is not one of gender parity. The work of female artists makes up a small share of the major permanent collections in the United States and Europe, while at auction, works of art by female artists auction for a significant discount compared to those of men.
Only two works by women made it to the top 100 painting auctions, although women were the subject matter of almost half of the top 25. In another report published by Artnet last year, US museum claim that they are giving more attention to female artist but unfortunately just 11% of all museums over the past decade have displayed works by women. And when researching how the 11% of women artist is calculated only 3.3% of this small amount were African American.
As said the Curator and writer Aindrea Emelife in a statement to The Independent, pursuit of equity and magnifying varying voices is not just a matter of duty, nor is it just an exercise in reflecting demographics and numbers – it is a key tool to ensure museums' relevancy in an ever-changing world. If art is truly "for everyone", then "everyone" needs to be able to see themselves within art.
Angela Franklin, Claudie Dimbeng and Aza Mansongi are represented in Great Britain by Demif Gallery with whom they will have a special exhibition in March 2021, the month of the celebration of International Women's Day.