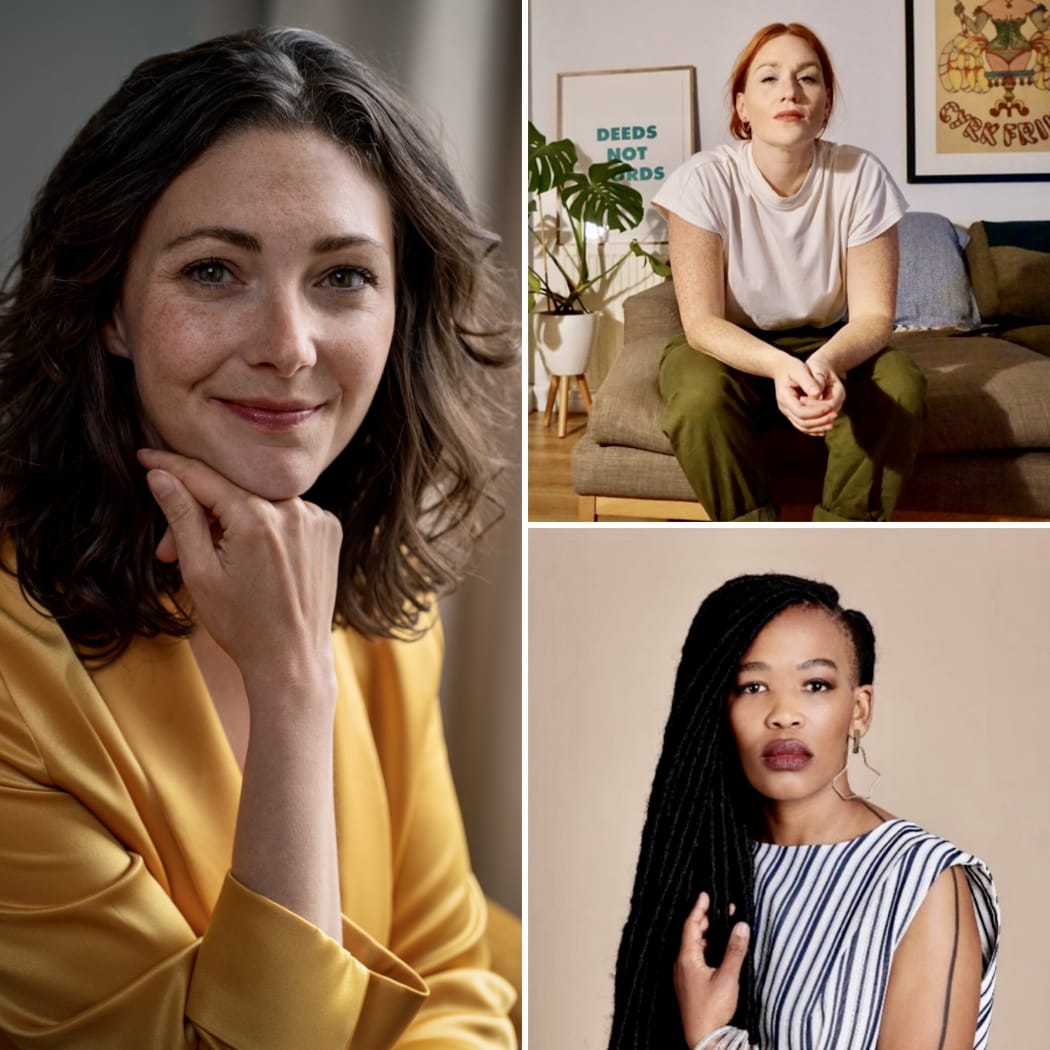 During an exhibition, all you will see are the collections displayed and the name of the artists. However, before, during and after the show, a host of workers are generally led by a curator who designs and produces the show. Passionate about art, who are these major players who contribute to the development of contemporary art? To find out, I spoke with two of them, Alex Zawadaski and Jennifer Schneider.
Alex Zawadaski
is a freelance creative producer but also the director and curator at The Second Act,
a young contemporary gallery with roots in the North of England that
addresses the disparity in the representation of artists and
challenges
the status quo
through a value-led approach.
"Traditionally a curator was someone employed by a museum or gallery
to acquire, care for and develop a collection. They would arrange displays of the collection and loaned works to interpret the collection", explained Alex from the outset. She added: "
Curatorship evolved into a consideration of how placement and selection of objects and artworks could evoke narratives, agendas and unexpected propositions. However, now the term curator has been adopted as a broad-stroke term for the aesthetic synthesising of products, pictures, music… into something in commercial ventures. My work sits in the second definition".
The role of the curator has been linked with the museums as an institution for a long time and with its evolution, the curator has also drastically moved from its originally backstage role to a leading one in the art world on a different level entirely.
Previously at Burberry, Dolce & Gabbana, Selfridges and Emilia Wickstead, Jennifer Schneider, independent curator, creative director, stylist and an experiential retail expert told me that she thinks that there are two forms of curators today.
"The traditional curators who have trained extensively and follow a very specific method to their practice. And then the curators who come from all different backgrounds and experiences who are really curating around a concept that they see and develop more from an organic or desire led space. I think the latter process is much more fluid and boundless, but traditional curators can definitely be too. The gallery, the concept, and the artist each play such an important factor. I think both forms of curation are equally important".
In an interview in The Sunday Times, South Africa, award-winning arts practitioner, curator and sociologist, Khanyisile Mbongwa who was recently appointed curator for the 25th edition of the Liverpool Biennale believes that curatorial practices are truly evolving because people are beginning to define their practices and what their practices are informed by. She said that curators are no longer people who are in museums taking care of collections. They are becoming writers, people who are critically engaged beyond museum collections. They are looking at public spaces, festivals, public programming, community outreach and all these other things which are informing so much of curatorial practices.
This evolution of the roles of the curator has permitted different practices to appear. Contemporary curatorial practices, including online practices, have radically changed the exhibition of art from its conception to its display.
This practice has evolved from an aesthetical backstage judge to a central role on a large scale, with an active, political and creative role play in the production process, dissemination and mediation of art itself. However, operations leftover from colonial times within the core traditional institutions remain much like they were. Collecting artwork and artefacts that come from the recurring demand for preserving, displaying and educating the masses are still at the core goal of the new museology. The main difference is that these operations have evolved with the progression of technology, especially when it comes to contemporary art. One illustration of this is the challenge faced by curators to preserve media art. Their archiving process relies on the usage of new technologies. To do so requires curators to expand their knowledges frequently by broadening their skills. By doing it, they are expanding their practice.
With this evolution, what is the role of a curator today?
"I see the role of the curator being hugely important. They, in many ways, are a lens into contemporary culture and society. A curator often also narrates to their own tastes which contemporarily I see as being both broad (global future for example) and niche (subcultural groups)" said Jennifer with her wealth of experience spanning 20 years in the retail and luxury sectors.
She adds that she also loves how multifaceted and dynamic curating can be. She has a lot of respect for curators of all kinds and loves exploring other people's visions of the world through their curatorial practice. She thinks that it is very special indeed.
"I think more classical curators are immensely important in helping us remember material past, reconcile the current, and inspire the future. So often you will see references from a show appear in fashion shows and interior design. They can spur an entirely new direction in separate industries".
One of the reasons for the vagueness that still surrounds the profession of the curator is its plural definition. Organising exhibitions and building a discourse around the works is only one facet of curating. It is difficult to determine appropriate criteria for good curatorial practice as well as making it hard to establish who can accurately be called a curator because the role of the curator is still relatively ill-defined and one of the reasons for this is because the role keeps evolving. However, the curator as a profession means at least four things if some perspectives as taken into account such as traditional practices of curation, the evolving role of the curator simultaneously to the Museum's evolution, the role of the curator as a mediator or as a designer and experience deliver.
These meanings are the preservation of the artistic heritage, the connection to the history of art, the selection of new work but also the display or presentation of work.
Talking about her curatorial practice, Khanyisile Mbongwa says it is formulated between care and cure. "By care, I mean how do I care for the artists and their narratives? How do I care for them as human beings? How do I care for the process of creating a space or instigating a space for cure? What kind of systems do I need to set up as a curator to facilitate this environment of care, and figure out how the institution that has invited me has created a space of care? A safe space".
In a research titled "The curator as a conceptual artist", the author Joakim Hansson thinks that by taking into account what a curator has as responsibilities, he or she can be both a meta-artist and an author since the curator selects works and place them in a context that the artist themselves perhaps didn't think of at first. A curator sometimes works in the same way as an artist working with ready-mades. It is a semi-creative role as, the physical (or non-physical) works are already made and what the curator does is putting the works in relation to each other and give them meaning, or at least a new meaning in a context that might be different from what the works were originally intended for. Often the curator can define the context by choosing which works to include in an exhibition, and by this hopefully starting a discussion between the works and artists that would be included in the show.
Talking from her own experience, Alex says that Art has always been part of her education and has helped her make sense of the world through her encounters with challenging artworks, particularly pre-internet when there was less information available. Therefore, she thinks that curators have a responsibility to research and present narratives that encourage conversations, debate and broaden audiences' thinking around a range of subjects that are prescient for the times they are in.
With regard to the curator's income, some are employees of institutions while others are freelance and work in collaboration with organisations. According to Payscale, a British data organisation, in the United Kingdom, 75% of curators are female and their salary varies between £20.000 to £40.000 a year depending on the level of experience. Another statistic from
2017 says that in England, 90% of practitioners don't earn enough to survive solely on their practice, and 69% have other jobs to supplement their income.
"I make 100% of my income from art and cultural works. I diversified my role and income streams. I work as a creative producer, curator, and gallery director depending on the project I'm asked to work on" Alex told me.
She added: "I established two businesses - a commercial gallery to represent artists and a studio partnership where I curate and create work in partnership with an artist. I've deliberately placed myself to draw through the three streams which creatives can exploit to finance their work - sales, commissions and public grants and funding. It's complex but provides stability when one stream isn't currently as secure or stable in the current ecology around art (eg - arts council grants closing during covid, decrease in sales during the recession)".
On the other hand, Jennifer classifies herself within the 90% bucket. Generally, she finds the creative sectors have a poor income range which is really sad and hard for a lot of people, including herself for many many years. For some industries, it's getting better but for many, it's still very difficult to make ends meet.
"Many creatives I know work in a multidisciplinary capacity, partially to generate the income necessary to live and partially for the expansive creative experience. Often working on something different can positively impact and improve another project, especially when you are stuck creatively", she said.
In 2016,
the U.S. Department of Labour
estimates
that 12,400 full-time curators were working in the U.S.
earning
an average of around £58,000 annually. The number of curatorial jobs, which counts all curatorial positions, not just those involved within the arts, is projected to grow 14% by 2026, to an estimated 14,100. The total number of people working as independent curators is difficult to estimate since many take on other roles as art advisors, writers, and teachers, for example alongside their curatorial work.
Alex Zawadaski has
a gallery show for The Second Act, coming up at the National Festival of Making at the beginning of June and then she is preparing for the Hamptons Art Fair in the U.S.
Jennifer Schneider has just wrapped up her dream project the exhibition "Townhaus Collective at Soshiro: An Immersive festive retail and culinary experience" which she waited seven years for and then only had six weeks to curate (amid the pandemic). It was an immersive retail concept highlighting the incredible work of 40 UK-based artists, artisans and makers.