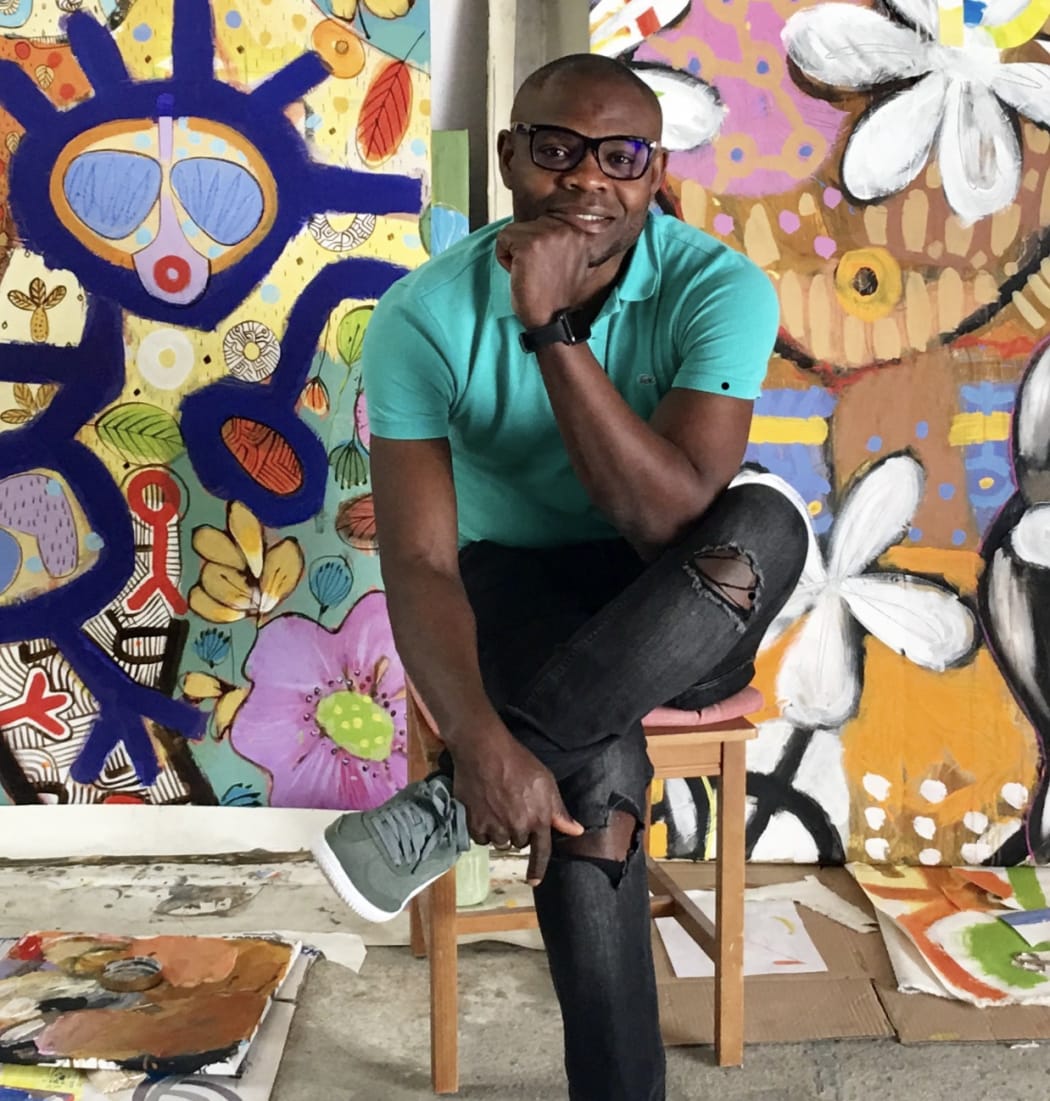 Olivier Matuti is a visual artist originally from the Democratic Republic of Congo, known for being among the precursors of librism, an artistic revolution in the 90s among the students of the Academy of Fine Arts in Kinshasa. Mentor, inspiration and support for many, Olivier Matuti, lives and works today in Germany. For him, it is the art that counts and not the credit.
From a young age, Matuti did not stop scribbling drawings on the ground. He was the star of his friends for his doodling. It was just before his registration at the Academy of Fine Arts, the main school of art of Kinshasa, that Matuti realised that he wanted to become a professional artist.
Moreover, for him, an artist is a person who can transcend imagination to reality. A being who can reproduce a thought to an object but also must be able to arouse emotions in people thanks to what he expresses through his art.
Throughout his two-decade career, his creations have always been spontaneous. "I don't really do preparatory sketches before starting my paintings. When I am inspired, I start to paint straight away on my canvas", he confides to us. "It is moreover the spontaneous side of abstract art that led me to figuration".
Noticed in 1997 for his creativity as well as a touch of non-conformism, Olivier Matuti was introduced to one of the leaders of a revolutionary artistic movement: "Librism".
Librism is a movement of young students from the Academy of Fine Arts of Kinshasa who decided to move away from the artistic canons taught in this institution which form most of the Congolese visual artists. Librism recognises a connection with the libertarian tendencies of contemporary Western art – in particular with artists like Jean-Michel Basquiat, who introduced the spontaneity of urban graphics into art, or Robert Rauschenberg for which any picked up object can be included on a canvas, challenging a deadpan conception of aesthetics.
On this subject, Matuti said: "When we participated in the creation of librism, we wanted to influence the state of mind of the new generation of artists of Kinshasa in their creation process. More concretely, their way of seeing things, the design, the choice of materials etc. Introducing several elements of a different nature into an artwork encourages the public to think about its meaning".
A few months later, the librists had their first exhibition at the French Cultural Center in Kinshasa, a city under tension at the time, waiting for the rebel Laurent Kabila's liberators. Indeed "Librism" and Liberation rhyme disturbingly. De facto, both participate in a movement with a common objective: to overthrow the class of dignitaries on the artistic and political scene. The exhibition was not met with commercial success, although its consequences on the history of Contemporary Art in the Democratic Republic of Congo are important.
The economic instability caused by the war impacted negatively the local economy and also the development of the visual arts. Nevertheless, a great opportunity presents itself to Olivier ,which will have a decisive impact on his career. His works attracted the attention of a gallery in Kinshasa: Symphonie des Arts.
Mrs Christa Goepfert, who is the promoter, is satisfied with the style of Matuti and acquires him a regular clientele. Thanks to this breakthrough in the market, the artist can finally plan his future with serenity and optimism. It is in this context that he leaves for Germany.
Given the evolution of his work, one thing you can't miss is the fact that it is nourished by two poles. On the one hand, Western-inspired academic conventions and on the other, a diversity of elements inspired by African art.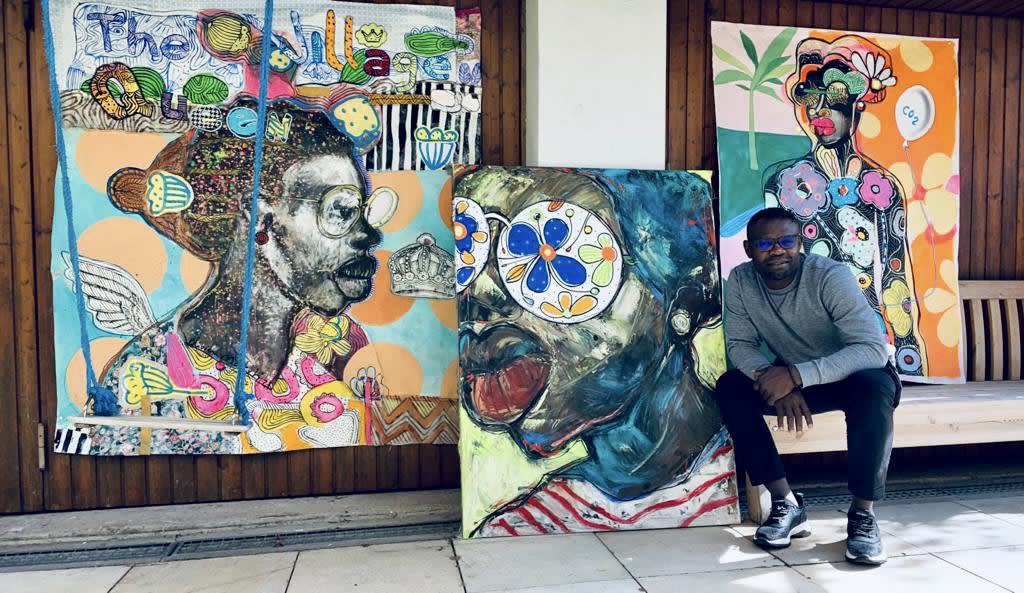 A pause of Olivier Matuti in front of series of his work in his studio.
Regarding the presence of artists of African origin on the international art market, Matuti believes that a few of them are emerging but he recalls that Africa is made up of 52 countries and believes that Africa deserves a place taking into account the potentiality of its talents.
"I acknowledge that African art is being doing well on the market but there is just a fraction of African artists who have access to it while there are still a lot of talented artists to discover", he says.
According to the 2016 Africa Art Market report on the contemporary African art market, the works of the most highly rated African artists have been sold in London, New York, Paris, Dubai by major houses such as Sotheby's, Philips, Christie's, Bonhams , Strauss & Co, Gaïa, Cornette de Saint Cyr.
"The ideal would be to have an art market locally based in Africa for the advantage of African artist", he added. Indeed, the market for contemporary African art does not exist in Africa if we refer to the economic meaning of the term: a system of exchanges where supply and demand meet with main objective being the commercialisation of artwork, according to the philosopher Babacar Mbaye Diop, He explained that a market presupposes a legal regime, trends, expertise and the valuation of works of art. But all of this is lacking almost everywhere in Africa.
To face these different challenges, Matuti believes that it is essential to promote contemporary African art to art lovers and provide to African artists more information about the art market. And the web can contribute to this because, according to him, African artists deserve more visibility and internet is nowadays accessible to most African big cities.
"Most of the artists of African artists are young and emerging. Many of them come from disadvantaged backgrounds, so in addition to acquiring high-quality works of art, collectors can invest in developing the capacity for financial autonomy of artists and in a form of philanthropy", he concludes.
Olivier Matuti is working toward a solo exhibition with Demif Gallery.